EVENTO COMEMORATIVO
50 anos do PPGCC e
10 anos do Fórum de Pesquisa em Contabilidade do PPGCC
Título: The Future of Accounting and Profession
Convidado: Shyam Sunder, Yale School of Management.
Data: 22 de Outubro de 2021 às 17hs (BRT)
Duração: 90 minutos (Evento em Inglês)
Local: https://zoom.us/j/97108453946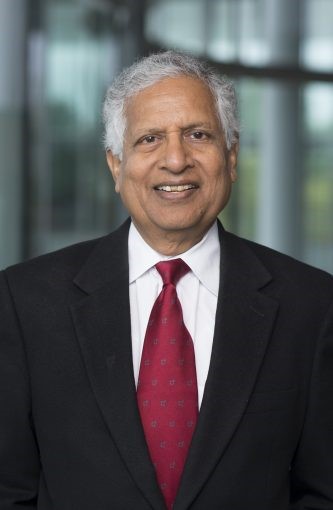 Shyam Sunder is the James L. Frank Professor Emeritus of Accounting, Economics, and Finance at the Yale School of Management and Professor (by courtesy) in the Department of Economics. His research contributions to management and economics include information processing in stock markets, statistical theory of valuation, social norms and regulation. He is a pioneer in the fields of experimental finance and experimental macroeconomics, having introduced the concept of zero-intelligence agents to computational economics. Sunder's research includes ten books and more than 230 articles in the leading journals of accounting, economics and finance, as well as in popular media. His books have been translated into Chinese, Japanese, Korean, Portuguese and Spanish. He and his research have been awarded many honors. He served as elected president of the American Accounting Association (2006-2007), former director of Yale's Millstein Center for Corporate Governance and Performance, fellow of Yale's Whitney Humanities Center, distinguished fellow of the Center for Study of Science and Technology Policy in Bengaluru, and research fellow of Research Institute of Economics and Business Administration, Kobe University. He is also a member of the International Academic Advisory Boards of the Indian Institute of Technology, Gandhinagar, the Business School of Jindal Global University, Sonepat, and an academic advisor to the Board of Trustees of MICA, Ahmedabad, India. He is a founding editor of Accounting, Economics and Law: A Convivium. https://faculty.som.yale.edu/shyamsunder/research/.
Sobre os 10 anos do Fórum de Pesquisa em Contabilidade do PPGCC:
O Fórum de Pesquisa em Contabilidade do PPGCC completa 10 anos de história e já contou com a participação 93 apresentações e discussões de artigos e estudos desenvolvidos por diversos pesquisadores nacionais (57) e internacionais (36) de renomadas instituições.
Participam do Fórum alunos do Mestrado e Doutorado do PPGCC e analisam previamente os estudos e discutem de forma guiada o material com o intuito de aprimorar competência de pesquisa e colaborar com os autores no desenvolvimento de seus estudos.
2012
Professor
Instituição
Título do Artigo
Rui Vieira
University of Amsterdam Business School
Interplay of management control systems and social capital in social enterprises – A case study of a social enterprise in Vietnam
Andson Braga de Aguiar
Universidade de São Paulo
The Relative Effect of Performance Measures on Managerial Time Orientation
2013
Shyam Sunder
Yale School of Management
Contract Theory of Organizations, Accounting and Control
Maria João Major
ISCTE Business School/IUL
Empreendedorismo institucional em Portugal
Kevin Jackson
The University of Illinois at Urbana-Champaign
Goal versus Expectation Guidance: An Experimental Examination
Romana Autrey
The University of Illinois at Urbana-Champaign
Team Synergy, Team Composition and Performance Measures
Alan Sangster
Griffith Business School
The impact on Accounting Education Resarch
Molly Scott Cato
University of Roehampton
Rebalancing financial profit and the natural world
Alexandre Di Miceli
Universidade de São Paulo
Concentração de poder e variabilidade de performances corporativas
Fábio Frezatti
Universidade de São Paulo
Papel do BSC na gestão de inovação
Luciana Suarez Lopes
Universidade de São Paulo
 A contabilidade na época do Brasil Império.
Isabel Lourenço
ISCTE/IUL
Relevância da reputação para sustentar a liderança
Francisco Henrique Figueiredo de Castro Júnior
Universidade de São Paulo
Evidencias dos programas de recompra de ações no mercado aberto
Nachamma Sockalingam
SIM University
Desining Effective PBL Problems
Martin Ernesto Quadro
Universidad Nacional de Córdoba 
El valor razonable como concepto vinculado a la pertinencia del valor
Thomas Vance
The University of Illinois at Urbana-Champaign
El valor razonable como concepto vinculado a la pertinencia del valor
Laura Li
The University of Illinois at Urbana-Champaign
Heteroscedacity in discreationary accrual detection
Claudio de Araújo Wanderley
Universidade Federal de Pernambuco
Variações em gerenciamento de práticas em contabilidade: The balanced scorecard adaptacion
Romualdo Douglas Colauto
Universidade Federal do Paraná
Estímulos lúdicos afetivos e aprendizagem de estudantes universitários em ciências contábeis
Mesut Akdere
University of Wisconsin-Milwaukee
Desenvolvimento da liderança, aprendizagem organizacional, gestão da qualidade e o desenvolvimento de Recursos humanos
Tim Bauer
The University of Illinois at Urbana-Champaign
The Effects of Client Identity Strength and Professional Identity Salience on Auditor Judgments
Ana Carolina Maia
Universidade de São Paulo
Risco moral no contexto da perda de cobertura do seguro de saúde
Luís Eduardo Afonso
Universidade de São Paulo
Fator previdenciário, vantagens e desvantagens de não se aposentar e continuar contribuindo e aposentadoria por tempo de contribuição
Tomasz Schabek
Faculty of Economics and Sociology da University of Lodz
Influence of behavioral and fundamental factors on stock returns. Case of Brazilian and Polish emerging markets
David Carter
College of Business da University of Canberra
The role of fair-value accounting in the financial crisis
2014
Ahmed Rashad Abdel-Khalik
The University of Illinois at Urbana-Champaign
Accounting for risk, hedging and complex contracts
Lúcia Rodrigues
Universidade do Minho
The role of government accounting and taxation in the institutionalisation of slavery in Brazil, 1750 – 1888
Alan Sangster
Griffith Business School
Origem da escrituração contábil de partida dobrada a partir do século XIII na Europa.
Lilian Mills
The University of Texas at Austin
Doing the Right Thing:Military Experience and Corporate Tax Avoidance
Thomas Calderon
University of Akron
Past control risk and currentaudit fees
Emanuel Rodrigues Junqueira
Universidade Federal do Espírito Santo
2 artigos
Cássio Turra
Universidade Federal de Minas Gerais
Mudanças no perfil educacional e ganhos de longevidade da população brasileira
Gabriel Pündrich
University of Technology
Does industry specialist assurance of non-financial information matter to investors?
Moritz Schroeder
Munster University
The characteristics, determinants and performance of cost-systems in subsidiaries of Anglophone multinationals- empirical evidence from Germany
Ana Gisbert Clemente
Universidad Autônoma de Madrid
Public oversight systems for statutory auditors in the European Union
Carlos Eduardo Facin Lavarda
Fundação Universidade Regional de Blumenau 
La interiorización del cambio de un sistema contable de gestión en la pequea empresa
Ian Tonks
University of Bath
2015
Anne M. Thompson
The University of Illinois at Urbana-Champaign
Business strategy and internal control over financial reporting
Gilberto José Miranda
Universidade Federal de Uberlândia
Problemas Percebidos no Exercício da Docência em Contabilidade
José Elias Feres de Almeida
Universidade Federal do Espírito Santo
Effects of IFRS, analysts and ADR on voluntary disclosure of Brazilian Public Companies
André Carlos B. de Aquino
Universidade de São Paulo
Accounting and Accountability: The Political Effects of Technical Reforms in Brazil
Cristiane Benetti
ICN Business School
One size fits all? Stakeholders' perceptions of IRFS adoption across Europe and Brazil
Ricardo Malagüeno
University of East Anglia
From collaboration to success: Examining the behavioral and performance consequences of controllers in project management
Fernanda Sauerbronn 
Universidade Federal do Rio de Janeiro, UFRJ
Epistemologias Alternativas em Contabilidade: uma reflexão teórica sobre as contribuições de abordagens não-mainstream para a contabilidade gerencial
Cláudia Ferreira da Cruz
Universidade Federal do Rio de Janeiro
Um estudo sobre a relação de indicadores de cumprimentos de metas e limites fiscais com a acurácia das previsões orçamentárias
2016
José Miguel Pereira dos Santos de Oliveira
Universidade do Porto
The accounting system of the Port Wine Chartered Company , 1756-1826: Earnings smoothing in a rent-seeking organization 
Elionor Weffort
FECAP
Opportunistic behavior in accounting choices: The influence of emotions and personality
José Carlos Tiomatsu Oyadomari
Universidade Presbiteriana Mackenzie
Budgetary Evaluation Logic influencing discourse: A case study in a Parent-Subsidiary Relationship
Umberto Mignozzetti
New York University
Politicians Matter: Legislature Size and Welfare with Evidence from Brazil 
Giorgio Gotti
University of Texas at El Paso
Accounting Accruals, Short-Selling, and Managerial Opportunism
Bárbara Voss
Universidade de São Paulo
Positioning social and environmental accounting in the brazilian context: an illustration through Petrobras
Edelcio Koitiro Nisiyama
Escola Superior de Propaganda e Marketing
Diversidade do Conselho de Administração e Decisões de Estrutura de Capital
Kim Petterson
Copenhagen Business School
Auditor liability caps, auditing enforcement andasymmetric economic consequences
2017
Ana Maria Roux Valentini Coelho Cesar
Universidade Presbiteriana Mackenzie
A Construção de uma Linha de Pesquisa em Tomada de Decisão: nove anos de certezas e dúvidas
Nuno Manuel Martins Dias Fouto
Universidade de São Paulo
Preços Hedônicos
Ana Cristina Braga Martes
Fundação Getulio Vargas
Nationality, Ethnicity, and Hybridization: Dilemmas of Racial-Ethnic Identification
Altay Alves Lino de Souza
Fundação Getulio Vargas
Julgar, Decidir, Escolher: Pra que?
Fábio Frezatti
Universidade de São Paulo
Publique ou Morra: não tem outra opção?
Eduardo da Silva Flores 
Universidade de São Paulo
Are Hybrid Financial Instruments Debt or Equity? International Evidence
Andson Braga de Aguiar
Universidade de São Paulo
The effectiveness of peer-level calibration committees
Paula Carvalho Pereda
Universidade de São Paulo
Avaliação de impacto: método de controle sintético
2018
Orleans Silva Martins
Universidade Federal da Paraíba
Influence of Information Asymmetry and Information Environment on Information Quality in Emerging Countries
Eduardo da Silva Flores 
Universidade de São Paulo
Earnings Transparency, Costof Debt and Cost of Equity:A Cross-Country Examination
Joelson Oliveira Sampaio
FGV / FECAP
Mandatory IFRS Adoption, Corporate Governanceand Firm Value
Renê Coppe Pimentel
Universidade de São Paulo
Earnings volatility and earnings predictability across business cycles: International evidence
Alan Diógenes Góis
Universidade de São Paulo
The Dark Tetrad of personality andthe accounting information quality: The moderating effect of corporate reputation
Bianca Quirantes Checon
Universidade de São Paulo
Identification of accounting information usage by individual and professional investors using the Q methodology technique
Samantha Valentim Telles
Universidade de São Paulo
Readability and understandability of notes to the financial statements
Daniel Magalhães Mucci
Universidade Regional de Blumenau
Agency and stewardship governance mechanisms in family firms: The influence of family-centered non-economic objectives
2019
Joelson Oliveira Sampaio
FGV / FECAP
CRO and Firm Value: Empirical Evidence from the Insurance Industry
Ronaldo Gomes Dultra de Lima
Universidade Presbiteriana Mackenzie
Capabilities and Performance: The role of Operational Capabilities, Absorptive Capacity, and Cost Controls
Paschoal Tadeu Russo
FIPECAFI
Fatores institucionais significativos do processo de sociomaterialização de práticas de contabilidade gerencial: Um estudo exploratório
Diogenes de Souza Bido
Universidade Presbiteriana Mackenzie
Structural  Modelsin the Applied  Social  Sciences:  misinterpretation  of  results  due  to multicollinearity
Matheus Albergaria
FECAP
Paying Attention to Inattention: Evidence from libraries
Juliano Augusto Orsi de Araújo
Universidade Ibirapuera
Remuneração de executivos e caixa: Há incentivos para geração de fluxo de caixa operacional? 
André Machado da Silva
Universidade de São Paulo
The role of heuristics and biases on sell-side analyst report and investors reaction
Verônica de Fátima Santana
FECAP
The role of Ibovespa membership on financial statements' conditional conservatism
2020
Franciele Beck
Universidade Regional de Blumenau
Which are the role of the flexible budget practices?
Elise Soerger Zaro
Universidade Federal da Grande Dourados
The effect of the voluntary adoption of integrated reporting on the cost of equity: Enforcement perspective
Jeice Catrine Cordeiro Moreira
Saint Paul Escola de Negócios
Retornos anormais em torno das publicações trimestrais brasileiras pós-adoção da IFRS 16
Edgard B. Cornacchione Jr.
Universidade de São Paulo
Agent-Based Model and Management Accounting: Culture-Contingent Managerial Behavior in Light of Budgetary Constraints
José Renato Sena Oliveira
Universidade Estadual de Feira de Santana
O Controle Externo e a Indução à Governança Pública em Municípios
Marcelo Cunha de Souza
O uso de Inteligência Artificial no ensino de Contabilidade: um modelo de classificação do Raciocínio Crítico
Juliana Ventura Amaral
FIPECAFI
Uso de informações de custos, valor e concorrência no processo de estabelecimento dos preços
Alex Augusto Timm Rathke
Universidade de São Paulo
Profit shifting and the attractiveness of advanced pricing agreements
2021
João Vinícius de França Carvalho
Universidade de São Paulo
Live and let die! Análise do contágio financeiro entre setores econômicos utilizando Redes Bayesianas
Fábio Frezatti
Universidade de São Paulo
Essence taxonomy of Brazilian family businesses and conceptual implications for governance strategy
Tatiana Albanez
Universidade de São Paulo
The role of covenants on the speed of capital structure adjustment in an environment of poor creditor rights: evidence from an emerging market 
Fernando Lima Trambacos
Universidade de São Paulo
Rodrigo Silva Souza
University of Roehampton
Angélica Vasconcelos
Universität Oldenburg
Iryna Alves
ISCAL - Lisbon Accounting and Business School
Gabriel Pündrich
Warrington College of Business